Leadership Intensives
Deeply explore themes such as mindful leadership, team alignment, and working with greater purpose.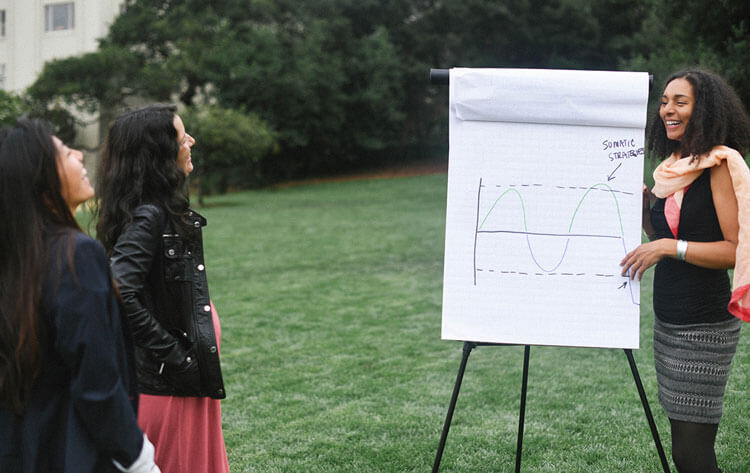 Practicing Mindful Leadership

As a leader, do you live your values in the everyday challenges, as well as in moments of crisis? Learn how to align your daily practice with the values that define your leadership archetype. You'll build foundational understanding of the power of body/brain states to influence collaboration, connection and trust within your team.

Flow For Peak Performance

Activate the power of flow state, and learn to meet the intensity of life with increased ease, focus, intuition, and heart. Learn how to get into your flow with research-based techniques for peak performance that work best for you to achieve your optimal neural zone for innovation.

Developing Capacity for Difference

Do the work it takes to show up better — for yourself and your team. Create space and security for deep and open exchanges. Ground your behavior in new research-based perspectives for greater empathy, self-compassion, and inclusion.

Embodying Leadership Beyond Gender

Stretch beyond conventional constraints of 'gendered' leadership. Reflect on how your body's gender (and the perceptions of it) influence the ways you've learned you lead. Access dimensions of your inner feminine and inner masculine that may have been marginalized by the way others view you.

Cultivating Executive Presence

A deep dive into the power of communication designed to enhance the authenticity of all your interactions.We'll examine micro- and macro-behaviors and how they're perceived, and delve into the neurobiology of social interactions and how your engagement is received.

Working Together With Purpose

Learn to assess team trust, accountability, conflict engagement and decision making. Understand how to pair objectives with individual and group behavioral styles. Develop a new, shared vision and commitment to goals. Improve emotional intelligence and prepare to win with healthy approaches to discussion, listening, resolution and commitment.

Aligning Your Team Dynamics

Embrace the diversity of orientations and mindsets across your team. Understand one another and start to enjoy your differences. Discover the advantages in individuals' complementary approaches. Inspire team-wide respect and inspiration to succeed together.

Activating Distributed Leadership

Evolve your organization by activating the leadership within. Explore the new paradigm of distributed leadership through new organizational development models that are adaptive, iterative, agile, and self organizing. Mobilize change by moving toward emerging formats and models of collaboration.
Interested in getting results for your team?
Our programs deliver impactful human-centered leadership development and holistic wellbeing training.
Let's Talk
Pricing
You can purchase any YOL program individually, but if you strategically purchase bundles of YOL programs to be utilized across your organization in a given year, you can save 20% or more. Examples below: